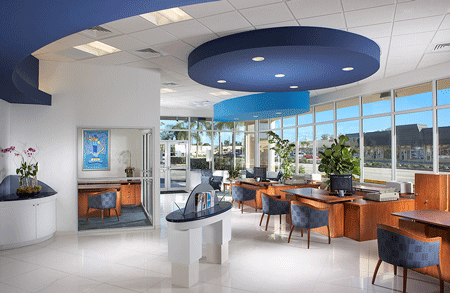 By utilizing design as a business strategy, IBT helps our clients implement what top retailers have known for years:
The "customer experience" is what drives revenue.
By virtue of our experience and national scope, IBT is able to provide clients with solutions that are tailored to meet their unique needs. There is no cookie cutter or packaged facility. IBT works collaboratively with the client at every phase to design a facility that supports the client's specific objectives, builds brand equity and reflects the personality of your business.
IBT's in-house team of licensed AIA and LEED accredited architects and interior designers meld functional efficiency and space planning with experiential branding and retail expertise to create distinctive, consumer-friendly designs that become a signature facility for your organization.
As part of our Architecture and Interior services, IBT provides Contract Administration which includes:
On-going supervision of permitting and approvals processes
Supervision of general contractor bid process, if required
Oversight of general contractor during construction (if client opts not to use IBT's in-house general contractors)
Coordination of general contractor, sub-contractors and vendors
Our goal is to exceed our client's  expectations for design, timeline and budget.  We are committed to helping our clients not only succeed but be a leader in their industry.  Our client's success is our success.