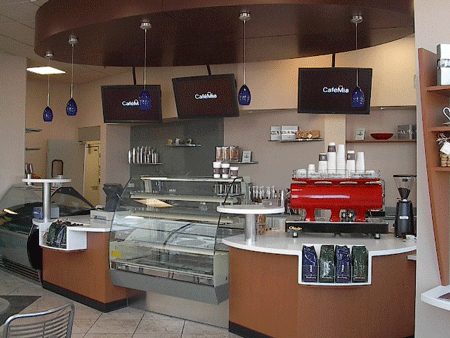 Through decades long strategic partnerships, IBT's capabilities include design and manufacturing of high quality, cost effective fixtures and casework. This unique capability means that our clients have one point of contact for total accountability.
IBT's design staff has extensive experience designing fixutres that are not only ergonomic and aestetically pleasing, but also maximize space utilization, brand development and cost effectiveness. Our products include teller lines, product display cases, desks and concierge stations, and full stand alone kiosks.
Our innovative delivery process includes:
Design – Our experienced design staff will work with your team to develop a product to effectively build your brand while providing the highest level of functionality.
Engeering – 3D design allows clients to view a virtual representation of the product.
Supply Chain Management – Whether components are made locally or abroad, IBT efficiently manages the process behind the scenes.
Project Management – No stone is left unturned. IBT manages the manufacturing of your product from inception to completion. All scheduling, communication and budgets are closely monitored to ensure project success.
Fullfillment – Whether the requirements are for a single location or thousands, IBT can manage the logistics of delievery and installation of your product to meet the specific requirements of your organization.